FIRST TIME BUYERS
Automotive Shopping Explained for First-Time Car Buyers in Corry, PA
Shopping for a vehicle is no simple feat-especially if you are a first-time car buyer. You have to conduct careful research to make sure you choose the right vehicle and that you have the means to pay for it, too. With consideration to these factors, the task might seem daunting. Fortunately, our experts at David Corry Chrysler Dodge Jeep Ram are here to guide you at every stage.
Establish a Budget You Can Uphold
Before you dive right into our inventory to see the models we have in stock, we encourage you to take a moment to reflect on your personal finances. By figuring out how much you can afford each month, you will have better grounds for your search. We recommend including expenses such as auto insurance and gas as well so that you do not exceed your budget.
Determine Your Wants and Needs
Knowing what you want and need will make the process of finding a vehicle much easier. Do you prefer something with advanced climate-control to combat seasonal changes in weather? Do you need an eco-friendly option that can drive for many miles with less stops at the station? Asking questions like these will help you envision a model most suitable for you.
Take Your Time Shopping Around for a Vehicle
Once you know what you are looking for, you can compare your preferences with the models now for sale and lease at our dealership in Corry, PA. Do keep in mind, you are not limited to browsing just our new Chrysler, Dodge, Jeep, and Ram vehicles. If affordability is a must, then you might want to explore our used cars, trucks, and SUVs as well.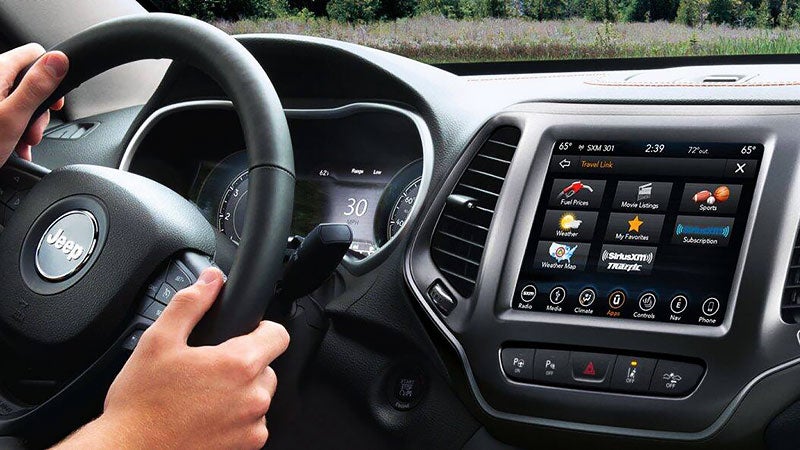 Consider Your Options: Will You Buy or Lease a Vehicle?
Generally speaking, there are two ways in which drivers can obtain a vehicle: buying or leasing.
Buying a Vehicle - When you commit to buying a vehicle, you are claiming a model to keep. As such, you will be expected to pay more every month. While monthly rates are higher, however, you will save more in the end because payments eventually cease. Plus, you have greater freedoms as an owner. For instance, you can modify your vehicle with upgrades or drive countless miles without worry of a penalty fee. Best of all, a vehicle you own is an asset you can sell at any time.
Leasing a Vehicle - If you are having a hard time deciding on a model, then leasing a vehicle might be a better alternative for you. A new car lease allows you to drive a car, truck, or SUV that still technically belongs to the dealer. You will have to stay within the regulations as outlined in the contract, but in exchange, monthly payments are substantially lower. Best of all, leases are usually for the latest inventory, which means you can enjoy the experience of driving a brand-new product.
There are also different incentives offered with buying and leasing a vehicle, so we encourage you to check out vehicle specials on our site to see how you can save more when you eventually visit us!
Frequently Asked Questions By First Time Buyers
How do I know what interest rate I'll get?
A lending institution (credit union or a bank) will determine what terms are available based on past credit, income and current obligations.
How do I establish credit?
The easy answer is buy things and pay as agreed with the terms of the loan.
Can I buy a car if I have no credit?
Many lenders have 1st time buyer programs that take into account a new buyers limited credit history.
How do I determine my monthly payment?
A vehicle is selected and the bank or credit union determines the term (number of months) and the interest rate. These are calculated and a monthly payment is determined.
How much money do I need to put down?
This is all subject to the lenders approval. People with established credit do not always have to put money down first time buyers with limited credit will typically have to have at least $500.00 down.
Does this car have a good CarFax?
You should always know a vehicles history before making a major purchase.
Are there service records available?
A buyer should always know what service has been done prior to purchase.
How to know if a vehicle has been serviced?
A repair order of work performed should be reviewed prior to making a purchase decision.
How are vehicles priced?
New vehicles are given a Manufacturers suggest retail price. Used vehicles are each price at the discretion of the dealer.
What is the warranty on a used car?
Some late model used vehicles have a balance of the manufacturers warranty. vehicles outside of the manufacturers warranty period will have a warranty that the dealer or private party sells them with. Many dealerships will offer vehicle service contracts for an additional cost.
How do I know where a vehicle came from?
Research a vehicles history can be purchased through Autocheck or Carfax. Many dealers subscribe to these programs and can provide them at little or no cost.
How do I get insurance for my first car?
Shop. Each carrier will have different coverage and rates based on the vehicle and the driving history of the applicant.
How do I know I'm getting a good deal?
Research, vehicle history, and the reputation of the dealer.
How do I get a car loan?
You can apply to a bank or a credit union. Dealers will also have the ability to work with lenders and arrange financing for you.
When do I need a cosigner?
This is determined by the bank or a financial institution. Without checking credit it cannot be determined who does and who doesn't need a co-signer.
Who can be a cosigner?
Someone with good credit (haha). A friend can co-sign, a family member can co-sign too.
Does buying a car hurt my credit?
Buying a vehicle may change your debt to income and a score may drop. Credit inquiries without a purchase may make a score drop 1-2 points. Typically when credit is pulled (checked by the lender) and a purchase is made, the score should not be negatively changed. All circumstances are different so just ask before you proceed.
What car can I get approved for?
Each circumstance is different. Find a trusted provider that has good feedback from users and ask the important questions to make the best decision for you.
Some lenders will offer a first time buyers template that includes model year, maximum amounts and duration.
---
Questions for First Time Buyers at The Dealership
How do you negotiate buying your first car?
Go online, identify the year make and model, select the equipment and options you want. There are many online sources to let you know if pricing is fair. Always check online reviews. When many customers are happy with a place of business, you probably will be happy too!
Which cars have the lowest cost of ownership?
Good maintenance schedules will insure a low cost of ownership. Each vehicles needs are different. A good place to start is a review of the manufacturers required maintenance.
When's the best time to buy your first car?
There are always deals on vehicles. There is never a good price on the wrong car.
How long does it take to buy a car?
Transaction times (once the shopping is done) should take no more than 1 hour. When all necessary information is compiled, a delivery can take only 10-15 minutes plus the time to properly acclimate you to the features and pairing electronic devices.
Can you negotiate price on cars?
Overpriced vehicles leave a lot of room for negotiations. A smart seller will offer their vehicle with an appealing sales price. This helps you avoid the back and forth. No one needs pressure in the buying process.
How much should I pay for my first car?
Budget, Budget, Budget! Set an amount you are comfortable with spending and stick to it.
David Corry Chrysler Dodge Jeep Ram
13255 Route 6, Roosevelt Hwy.
Corry, PA 16407-8961
Hours
Monday

09:00AM - 08:00PM

Tuesday

09:00AM - 06:00PM

Wednesday

09:00AM - 06:00PM

Thursday

09:00AM - 08:00PM

Friday

09:00AM - 06:00PM

Saturday

09:00AM - 04:00PM

Sunday

Closed
Contact Us