The Premiere Auto Dealership in Corry, PA
They may not always remember you, but they will never forget how you made them feel. Those are words we live by here at David Corry Chrysler Dodge Jeep Ram. We don't expect you to buy a new or used vehicle from us when you arrive. We don't expect you to take advantage of our phenomenal auto repair services. But, we do expect one thing-and it has everything to do with how you feel when you leave our dealership.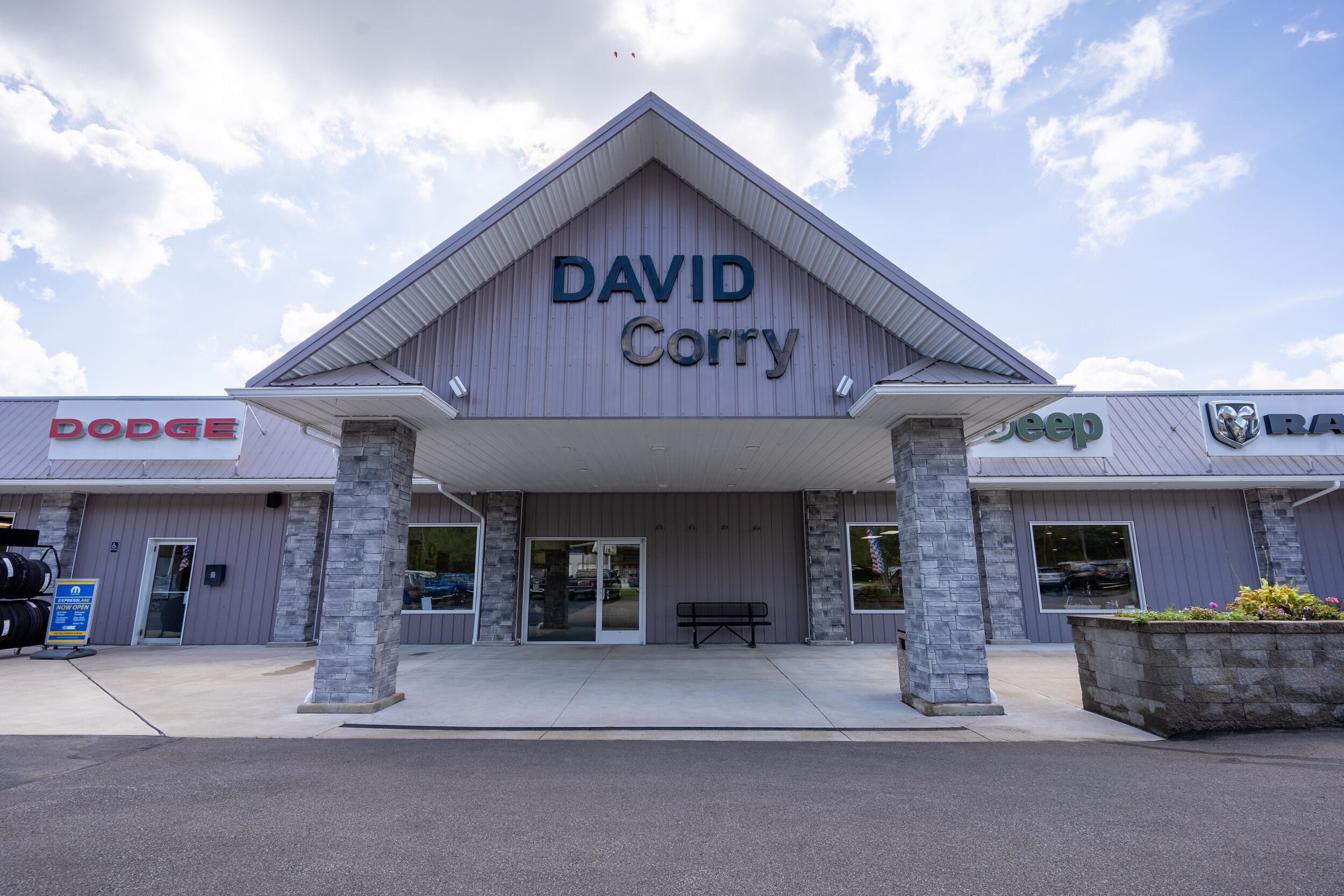 The Way We Set Ourselves Apart
If you don't feel welcomed from the moment you walk through our doors, then we're not doing our job. At David Corry Chrysler Dodge Jeep Ram, you will always be our number one priority. Sure, we'd love to see you a new 2022 Dodge Challenger or Grand Wagoneer, but more importantly, we want to show you that we care. Whether it's holding a door for you, offering first-class amenities, or our no-pressure auto sales process, we want to ensure that you're comfortable in our establishment.
Our commitment to your satisfaction is just one way we show our genuine appreciation for your business. We take great pride in serving the community through charity events and donations. Without the Erie and Warren, PA community, we're nothing. So, we take every opportunity to give back to the surrounding areas and present you with high-quality customer service every time you show up.
New and Used Vehicles for Sale in Corry, PA
If you're looking for a spacious SUV to take you and your family on off-road adventures, we've got Jeep and SUV selections available. The 2022 Dodge Durango is a full-sized family SUV with room for seven passengers in Meadville, PA. Additionally, we have the Grand Wagoneer, Grand Cherokee, and Jeep Wrangler available for purchase. You can check out our full selection of performance vehicles and heavy-duty trucks for your commutes in Meadville, PA, or Jamestown, NY.
If you'd prefer to look at our Certified Pre-Owned or used inventory, we've got a solid inventory of cars, trucks, and SUVs in stock. There are over a half-dozen automakers like Mitsubishi, Toyota, Ford, and GMC with vehicles for you and the entire family. Enjoy our no-pressure sales process and take your time locating the vehicle perfectly suited for your driving needs.
The Right Auto Financing Deal
You may be a bit apprehensive when you apply for financing. Your credit might be in bad shape, or you've just had a rough patch in the last year. Many of us have experienced recent financial hardships, but our team is well-equipped to handle your situation. You don't have to worry about financing. You can speak to one of our representatives, and they'll handle the hard work for you.
You can apply for financing online or in person. Either way, we'll do everything we can to help you get financed for your new or used vehicle. We have business relationships with various lenders in the area of Corry and Erie, PA. So, rest assured, you'll have the keys to your new or used vehicle when you leave our dealership.
Auto Repair Service in Corry, PA
There's nothing better than the stress-free feeling of knowing your vehicle has been fully repaired. That's why our professional mechanics will use official factory equipment for each restoration. They'll work to ensure that each component is repaired and functioning at its highest levels. Whether it's general maintenance or major problems, our professionals can handle everything in between. You can schedule your appointment online or in-person and get your vehicle repaired today.
David Corry Chrysler Dodge Jeep Ram
You may not purchase anything from us, but you won't forget the way we made you feel. Experience the high-level customer satisfaction and our genuine approach to your auto needs here at David Corry Chrysler Dodge Jeep Ram. We'd love to show you what car shopping in Corry should look like.