Ram's Futuristic New Truck Model is Sure to Amaze Drivers from Warren, Erie, and Titusville
The 2019 RAM 1500 has been unveiled and drivers from Corry and Erie are sure to fall head-over-heels when they discover its knack for the incredible. This new RAM pickup will feature a redesigned frame and more powerful drivetrain to create one of the strongest and smoothest-riding trucks that drivers from Warren have ever experienced. Our attention is also grabbed by the new tech and features inside the 2019 RAM 1500; including a massive 12-inch touchscreen, and a full suite of safety features for drivers from Jamestown and Titusville to enjoy, including adaptive cruise control and blind-spot detection with trailer-sensing. If there's a new vehicle worth truly obsessing over and counting down the days until it arrives in Corry; it's the 2019 RAM 1500.
The 2019 RAM 1500 Will Amaze You in Ways You Never Thought Possible
The 2019 RAM 1500 has been designed to deliver innovations that drivers from Warren never would have thought of before, but will never want to be without again. For the first time in the RAM truck model lineup, the RAM 1500 will feature a 'mild-hybrid' electric motor to boost the power and capabilities of this full-size truck in a fuel and cost-effective manner.
For the 2019 RAM 1500 model, two engine packages will be offered in conjunction with the torque-boosting, fuel-conserving mild-hybrid system.
A 3.6-liter V6 Pentastar with 305 horsepower and 269 pound-feet, with an extra 90 pound-feet contributed by the 48-volt battery connected to the drivetrain – Standard.


A 5.7-liter Hemi V8 with 395 horsepower and 410 pound-feet – Optional.
While the system is optional on the Hemi V8 engine, it is included standard on the 3.6-liter Pentastar configuration.
Redesigned Frame and Body Will Create More Engine Power to Carry Heavy Cargo
New for 2019, the Ram 1500 truck has received a new 98% high-strength-steel ladder frame that is longer and more resistant than ever before. The narrower portions of the frame are boxed into cross-sections that improve the bending strength and flexibility of the frame, as well as its resistance to collisions from any direction in Erie or Jamestown.
The lightweight frame of the 2019 RAM 1500 is four-inches longer than any previous RAM truck model, making it the longest RAM truck and work truck in its class according to RAM. Despite the size increase the new frame is more than 100-pounds lighter than its predecessors thanks to the lightweight materials that make up its frame. Lighter frame means less engine power required to move it, leaving more of the most powerful RAM drivetrain yet to focus on towing and carrying heavy trailers and cargo in Warren. The 2019 RAM 1500 boasts a 2,300-pound max payload, and a towing capacity of 12,750-pounds when configured properly.
The 2019 RAM 1500 cuts weight across the board thanks to its redesigned exterior and body paneling. The new suspension can also change the slope and angle of the RAM 1500's nose, lowering it when it reaches speeds above 35 miles per hour for improved aerodynamics and fuel-consumption. The 'vortex-generator' sculpted into the rear edge of the cabin-roof lifts air over the roof and cargo bed, giving the RAM its largest standard cargo box capacity yet.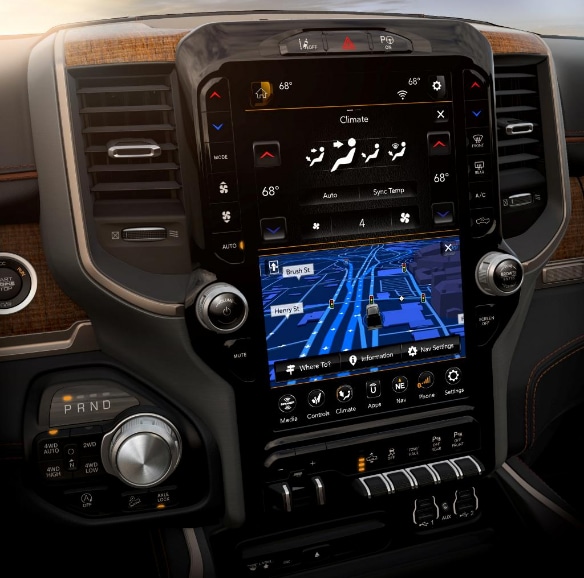 Unreal Application of Tech and Features Inside, With Optional Luxury Features Galore!
The 2019 RAM 1500 offers improvements to infotainment and comfort features that were already top-notch. The new 12-inch touchscreen available on all RAM 1500 models will rival brands like Tesla for the largest screen in its class. Available entertainment features include
A 19-speaker Harman Kardon audio surround system with 900-watts of acoustic power and a 10-inch subwoofer.


Apple CarPlay and Android Auto for easy connectivity of all devices.


Mobile Wi-Fi hot spot for cellular-data free connectivity wherever you go.


Navigation and information about the world outside your RAM truck, thanks to the Uconnect infotainment system.
Inside, the RAM 1500 sports a completely flat floor in the second row with seats that flip up to accommodate tall and bulkier items and four tie-down hooks to ensure objects don't shift around. Front seats range from incredibly comfortable, to overwhelmingly decadent, with heated and cooled premium leather seats and power-adjustment seats with memory functions. Seating in the rear is also enjoyable, thanks to sliding and reclining back seats that also features a folding armrest with cupholders in the middle. The 2019 RAM 1500 ensures that you can be just as comfortable behind the wheel as you are productive.
Click here to see our current selection of Ram 1500 Trucks!
You'll Love the 2019 RAM 1500 – Coming Soon to DAVID Corry Chrysler Dodge Jeep RAM
We hope you'll visit our Chrysler, Dodge, Jeep and RAM truck dealership in Corry when the 2019 RAM 1500 arrives to see all of its incredible innovations in person and experience them for yourself with a test drive. The 2019 RAM 1500 will start appearing at dealerships across the nation in the spring of 2018, but that doesn't mean you have to wait until then to learn more about the diverse capabilities of RAM trucks, visit DAVID Corry Chrysler Dodge Jeep RAM to ask our team all your questions, and test drive new RAM truck models in Corry. We look forward to seeing you!