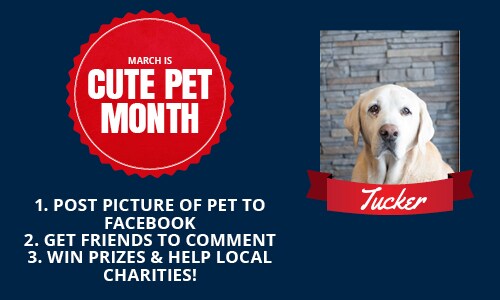 Here we go, friends!!! It's time for the Cute Pet Month contest at David Corry.
Post a picture of your cute pet on your Facebook page, tag our page, and get your friends to comment on your post. The post with the most comments will win! This will go the entire month of March, so there is lots of time to get those comments. Every entrant will receive a framed print of their pet. The winner will receive a prize of their choosing. We will also donate $200 to either the Anna Shelter, YMCA, VFW, American Legion, or the Shriners. Or the winner can take a $100 gift card to Tractor Supply!
Along with this contest, we are sponsoring a pet adoption at the Anna Shelter. We will pay for one adoption per week. The first person to go to the Anna Shelter that mentions David Corry Chrysler each will be the one we pay for.
Share this post, spread the word. Get the votes for your cute pet! Don't worry: Tucker isn't in the competition, but he is the cutest, wouldn't you agree?
Ready...set...go!